Jurassic World: Dominion Dominates Fandom Wikis - The Loop
Play Sound
Dual Universe

Developer(s)

Novaquark

Publisher(s)

Novaquark

Engine

Unigine 2

Platform(s)

Microsoft Windows

Release date(s)

TBD

Genre(s)

MMORPG, Sandbox

Mode(s)

Multiplayer
Dual Universe is a single-shard, Sci-Fi sandbox MMORPG that takes place in a procedurally generated universe, with a focus on emergent gameplay, a player-driven economy, and inter-organizational politics. Players can freely modify the voxel-based universe to create structures, vehicles, space ships, and orbital stations; giving birth to empires, civilizations, and conflict.
Dual Universe uses Dual Contouring to create it's voxel world; a technique which allows for smooth, realistic looking landscapes and structures. Players move in the game universe in First Person View both individually and while piloting vehicles. Planets are procedurally generated, and contain only finite resources, leading to competition. Furthermore, all landscape modifications made by players are permanent.
Developer
Dual Universe is a game developed by Novaquark, an independent game studio hailing from Paris, France. Dual Universe is currently in development, and an official release date is still yet to be determined. Closed pre-alpha testing began on September 23 2017, which marked the start of official player testing of the game. Subsequent dates, beginning September 30 2017, allow backers of the gold level and above to access the pre-alpha version of the game for limited time slots.
Beta was officially launched August 28th 2020, seeing a huge influx of new players looking to discover the game project. It was announced at the time that there would be 2 parts to Beta, further broken down with more additional content being added to the game, along with various overhauls and updates to existing systems. One year on in Beta and the roadmap has changed to reflect the focuses of the development team, with much more in the game now as per the old roadmap.
Releases
The development of the game has been following a 4-step process: pre-alpha, alpha, beta, and release. Pre-alpha and alpha phases were limited to crowdfunding pledgers and under strict NDA, with servers only open during specific time slots. In August 2020,
Novaquark released the open beta of Dual Universe, which is now available to any player buying a monthly subscription. The NDA has also been lifted, allowing streamers and content creators to show the game publicly.
Though Novaquark regularly publishes a roadmap, there is no official release date for the game in the latest version of that roadmap (published summer 2021). The game is currently still in open beta.
Game Access
Crowdfunding packs (Contributor, Sponsor and Patron packs) were offered during the Pre-Alpha and Alpha phases of the game's development, but are no longer available for purchase, since August 2020. They have been replaced by a monthly subscription, which gives access to the currently available beta phase. The subscription to the game is offered in 3, 6 and 12 month packages. A one-month option was available outside of the main game website for a few months, but is currently no longer offered. The base price per month is $6.99 / €6.99 for a 3 month package, with growing discounts offered to players committing to 6 and 12 month plans. More information on available subscription packages can be found here. https://www.dualuniverse.game/buy
Alpha Pledges
With the introduction of the Alpha Pledges, NOVAQUARK gifted Kickstarter backers with a Pledge of minimum value. Meaning that those who backed Dual Universe through Kickstart for roughly €60 also got a Contributor Pack pledge added to their account. An easy infograph was provided to help explain whick Kickstart levels were provided with what.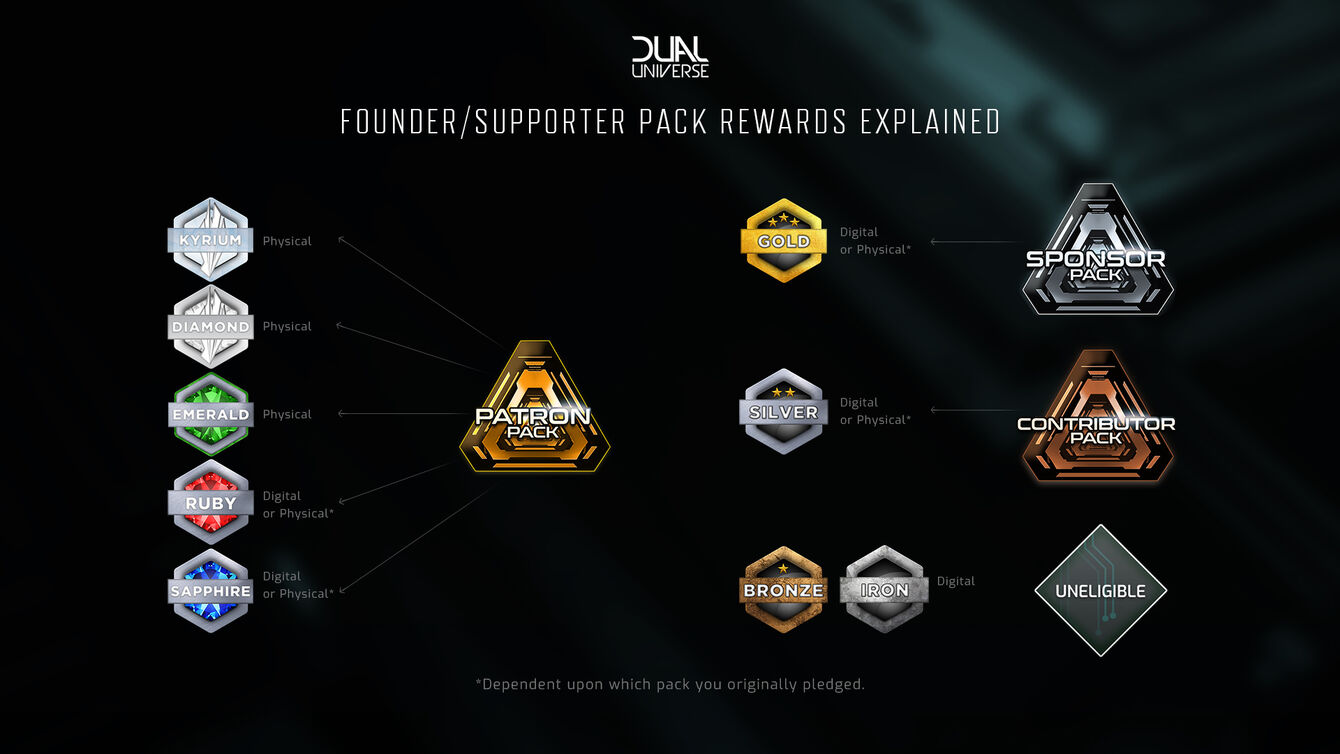 Source: https://support.dualthegame.com/hc/en-us/articles/360001639873-FAQ-Supporter-Packs