Kyrium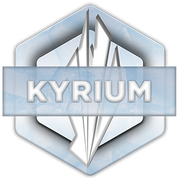 Kyrium cannot be manipulated by any processes currently available. It is unaffected by both nano-fields and CYC.
Despite this, it is evident that Kyrium can withstand and absorb enormous accelerational forces; which is why it was used in building the Arkships.
Considering that 'Kyrium' was the highest tier of backer reward, it could be suggested that Kyrium will feature as the most valuable resource in-game.