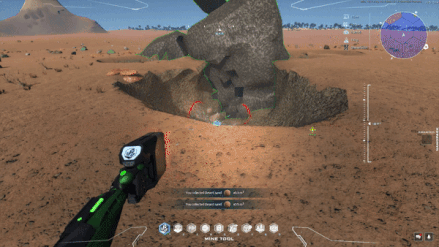 Resource Types
[
]
Resources in Dual Universe are naturally occurring voxels obtained from planets, moons, and asteroids. In Dual Universe, the term "resources" generally refers to any voxels that can be extracted from a planetary body. In most cases, resources must be refined into pure materials before they can be used to create elements and honeycomb and then used in construction. Resources that can be refined to pure materials are classified in the UI as Mineable Materials, known as ores these are listed in the table below. Terrain Materials are resources that cannot be refined into pure material. Different mineable materials have varying levels of rarity, which determines how difficult they are to find in the game world. Furthermore, some mineable material can only be found in certain places (such as on asteroids or moons), or only in certain planetary biomes. As a result, players wont be able to find every possible resource on a single planet. The Resource Distribution table below indicates the planet where that resource is found and the depth to dig in meters to find the ore.
Mineable Materials - Ores
[
]
All ore and refined materials in Dual Universe are categorized into "Tiers" -  Tier 1- Tier 5
Terrain Materials
[
]
Terrain materials are naturally occurring materials such as soil, rock, sand, snow etc. and are obtained from planets, moons and asteroids. They can be gathered by players using and of the Dig Mode capable tools such as the Mining Tool or Terraforming Tool, and once collected, placed again with the Alt Mode Mining Tool. These materials make up the vast amount of natural voxels found in the game world.
List of Terrain Materials
[
]
| Icon | Name |
| --- | --- |
| | Forest Soil |
| | Moon Soil |
| | Rock |
| | Sand |
| | Snow |
| | Soil |
Resource Distribution
[
]
The table below describes the depth in meters below surface level that ores of a particular type are found. This is not the depth below sea level but how far you must dig in a vertical line to reach the ore. There will always be the occasional vein of ore that does not follow these values but they are accurate in 99% of cases.
Bauxite
Quartz
Hematite
Natron
Chromite
Limestone
Malachite
Garnierite
Acanthite
Petalite
Pyrite
Cryolite
Cobaltite
Kolbeckite
Gold Nuggets
Columbite
Vanadinite
Illmenite
Rhodonite
Alioth
64-330
18-293
47-289
19-245
598-663
430-566
866-926
Alioth M1
76-126
71-129
64-122
58-106
840-840
Alioth M4
75-129
59-130
41-131
28-119
836-836
Feli
83-161
72-235
49-192
81-258
410-519
638-709
794-3059
Feli M1
75-123
60-144
72-114
46-113
209-275
449-529
797-862
Ion
277-872
116-922
82-889
107-968
1263-1401
1498-1631
1690-1750
1790-1875
Ion M1
72-120
56-100
66-107
47-99
200-284
Ion M2
59-117
52-123
48-149
61-118
203-268
464-505
Jago
67-120
52-115
39-117
67-111
136-303
169-286
376-514
609-672
1112-1170
Lacobus
98-308
48-341
63-268
107-242
432-534
667-786
901-1140
1022-1230
Lacobus M1
57-131
53-120
59-150
64-118
Lacobus M2
11-108
53-119
64-111
53-132
204-248
Lacobus M3
36-105
39-92
36-93
57-100
Madis
201-813
57-930
77-936
227-740
982-1160
1200-1310
Madis M1
68-108
67-135
39-128
64-105
477-514
632-632
Madis M2
53-122
51-127
44-115
68-118
463-494
633-664
859-859
Madis M3
52-119
52-114
44-106
48-97
603-670
858-858
Sanctuary
0-596
0-800
0-596
0-824
200-1671
600-1200
Sicari
122-338
139-420
76-363
100-480
553-624
770-876
1006-1082
Sinnen
67-965
213-663
141-823
84-728
983-1171
1270-1334
1501-1551
Sinnen M1
67-114
64-110
69-124
78-125
213-274
442-527
620-620
883-883
Symeon
37-505
74-547
89-557
111-525
590-740
871-954
1071-1117
1188-1258
Talemai
122-192
131-182
89-191
98-184
424-551
312-393
704-808
Talemai M1
56-131
63-125
50-114
72-122
211-350
612-676
828-863
Talemai M2
56-120
62-105
53-127
58-106
466-508
588-652
Talemai M3
62-95
25-123
56-138
65-139
225-300
612-657
846-846
Teoma
82-205
128-200
67-243
125-236
296-387
414-514
609-698
811-877
Thades
21-367
88-433
122-484
36-442
519-655
801-880
Thades M1
62-117
42-117
58-127
44-114
191-258
458-520
Thades M2
46-104
44-144
46-145
74-133
461-527
605-680
Archived Data
[
]
The following table presents a rough description of how the resources dispersal system works in the current state of development,
This Information is Observational
Scanning Difficulty (observational data)

| Difficulty Level | Description | Average Size of Node |
| --- | --- | --- |
| Visible | Nodes are visible on the surface and relatively abundant | Small |
| Abundant | Nodes are shallowly buried (less than 2 or 3 meters) and relatively common | Small to Extra-Large |
| Normal | Nodes are commonly found between 5 and 150 meters deep and are relatively large, but only found in certain biomes | Medium to Extra-Large |
| Uncommon | Nodes are deep ( >150 meters), infrequent, and hard to find | Medium to Large |
| Rare | Nodes are very deep ( >500 meters), small, quite rare, and hard to find | Small to Medium |
Reference
[
]